Transcend's MTE710T M.2 SSD uses the PCI Express (PCIe) Gen 4 x4 interface and supports NVM Express (NVMe) 1.4 specifications, achieving unprecedented transfer speeds. The MTE710T features next-generation 3D NAND technology, which enables 112 layers of 3D NAND Flash chips to be stacked vertically. Compared to 96-layer 3D NAND technology, this density advancement greatly improves storage efficiency, and its integrated DRAM cache enables faster access. Equipped with Corner Bond technology and 30 µ" PCB connectors, the MTE710T has undergone extensive internal testing to ensure reliability in key applications, and boasts a durability rating of 3000 write and erase cycles, as well as an extended operating temperature ranging from -20℃ to 75 ℃.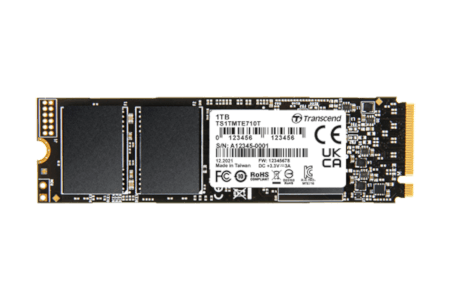 Firmware features
Supports NVM commands
SLC cache technology
Dynamic thermal throttling
LDPC ECC (Error Correction Code) function Integrated
Advanced Global Wear Leveling and Defective Block Management for Reliability
Advanced Garbage Collection
Enhanced S.M.A.R.T. function for durability
TRIM command for better performance
Encryption of entire disk with Advanced Encryption Standard (AES) (optional)
Hardware features
Complies with RoHS standards
Compliant with PCI Express 3.1 specifications
Compliant with NVM Express 1.4 specifications
M.2 form factor (80mm) - ideal for mobile computing devices
PCIe Gen 4 x 4 interface
Integrated DDR4 cache module
Endurance: 3K cycles P/E (Program/Delete) guaranteed
The main components are factory reinforced with Corner Bond technology.
PCB has 30µ thick gold connection pins
Promised operational reliability over an extended temperature range (-20°C to 75°C)
Supports Transcend's Scope Pro software
Specifications
Appearance

Dimensions
80 mm x 22 mm x 3.58 mm (3.15″ x 0.87″ x 0.14″)
Weight
10 g (0.35 oz)
Form Factor
M.2
Type M.2
2280-D2-M (Double-sided)

Interface

Bus Interface
NVMe PCIe Gen4 x4

Storage

Flash Type
3D NAND Flash

Capacity

256 GB

/

512 GB/

1 TB/

2 TB

Operating Environment

Operating Voltage
3.3V±5%
Operating Temperature

Extentida

-20°C (-4°F) ~ 75°C (167°F)

Storage Temperature
-55°C (-67°F) ~ 85°C (185°F)
Humidity
5% ~ 95%
Hit
1500 G, 0.5 ms, 3 axes
Vibration (Operating)
20 G (Peak-to-Peak), 7 Hz ~ 2000 Hz (frequency)

Feeding

Power consumption (Operating)
4.9 watt(s)
Energy consumption (IDLE)
1.52 watt(s)

Performance

Sequential Read / Write (CrystalDiskMark)
Read: Up to 3,800 MB/s
Write: Up to 3,200 MB/s
4K Random Read / Write (IOmeter)
Read: Up to 500,000 IOPS
Write: Up to 560,000 IOPS
Mean Time Between Failures (MTBF)
5,500,000 hour(s)
Terabytes Written (TBW)
Up to 1,700 TBW
Number of Discs Written Per Day (DWPD)
1.55 (3 years)

Note

Speed may vary due to host, hardware, software, usage and storage capacity.

The workload used to rate DWPD may be different compared to your actual workload, due to the difference in hardware, software, usage and storage capacity of the host.

Terabytes Written (TBW) indicates the resistance under the highest capacity.