Using high-quality 3D NAND flash rated to withstand 3K P/E cycles, Transcend's 460T microSDXC memory cards combine the advantages of high performance and exceptional endurance at an affordable price. Making them ideal for write-intensive applications such as medical devices, surveillance systems and POS terminals.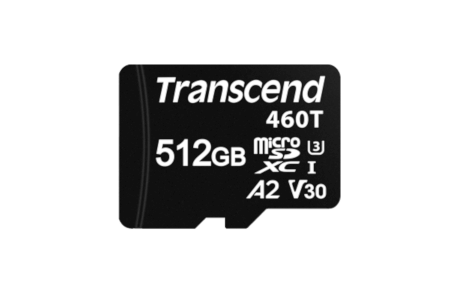 Firmware features
LDPC ECC (Error Correction Code) function Integrated
Early Move
Enhanced S.M.A.R.T. function for durability
Wear levelling
Hardware features
Complies with RoHS standards
Electrostatic Protection (ESD IEC 61000-4-2)
Compliant with SD 6.1 specification
UHS-I compliant
Compliant with Video Speed Class 30 (V30)
Complies with Redeeming Class 2 (A2) Applications
Endurance: 3K cycles P/E (Program/Delete) guaranteed
Supports Transcend's Scope Pro software
Specifications
Appearance

Dimensions
11 mm x 15 mm x 1 mm (0.43″ x 0.59″ x 0.04″)
Form Factor

Storage

Flash Type

Capacity

64 GB

/

128 GB

/

256 GB

/

512 GB

Operating Environment

Operating Voltage
Drop test
Operating Temperature

Standard

-25°C (-13°F) ~ 85°C (185°F)

Storage Temperature
-40°C (-40°F) ~ 85°C (185°F)
Humidity
0% ~ 95%
Hit

Acceleration: 490 m/s² (standard holding time: 11 ms, semi-sinusoidal wave, velocity change: 3.44 m/s)

Vibration (Operating)
20 G (Peak-to-Peak), 20 Hz ~ 2,000 Hz (frequency)

Feeding

Consumption (Max.)
0.5 watt(s)

Performance

Reading Speed (Max.)
Up to 100 MB/s
Write Speed (Max.)
Up to 80 MB/s
Terabytes Written (TBW)
Up to 1343 TBW

Note

Speed may vary due to host, hardware, software, usage and storage capacity.
Terabytes Written (TBW) indicates the resistance under the highest capacity.